Labor Domains thinks through the implications of machine learning and its impact on labour ethics, workers, and the futures of work.

From these intersections I have developed the concept of reflexive software development, as apractice-based research that seeks to contest the normative logics of machine learning algorithms and think through new counteralgorithmic imaginaries.
Reflexive software is a means of visually and critically unfolding complex intersecting sociotechnical computation systems. Reflexive software development holds algorithms and their ideological positionality in contestation.

In contrast to traditional software development that is instrumental, producing new functional tools to achieve a defined task, reflexive software development critically reflects on its own processes, on its own code.

It is a form of software development that thinks about the development of software, that engages an awareness of the social and ideological circumstances of its own production.

Reflexive software is a method that reframes a key research question in machine learning, which is the 'interpretability problem'. Instead of asking 'how to solve the problem of interpretability', I ask 'how to contest the problem of interpretability' in order to reframe the value system that drives its development.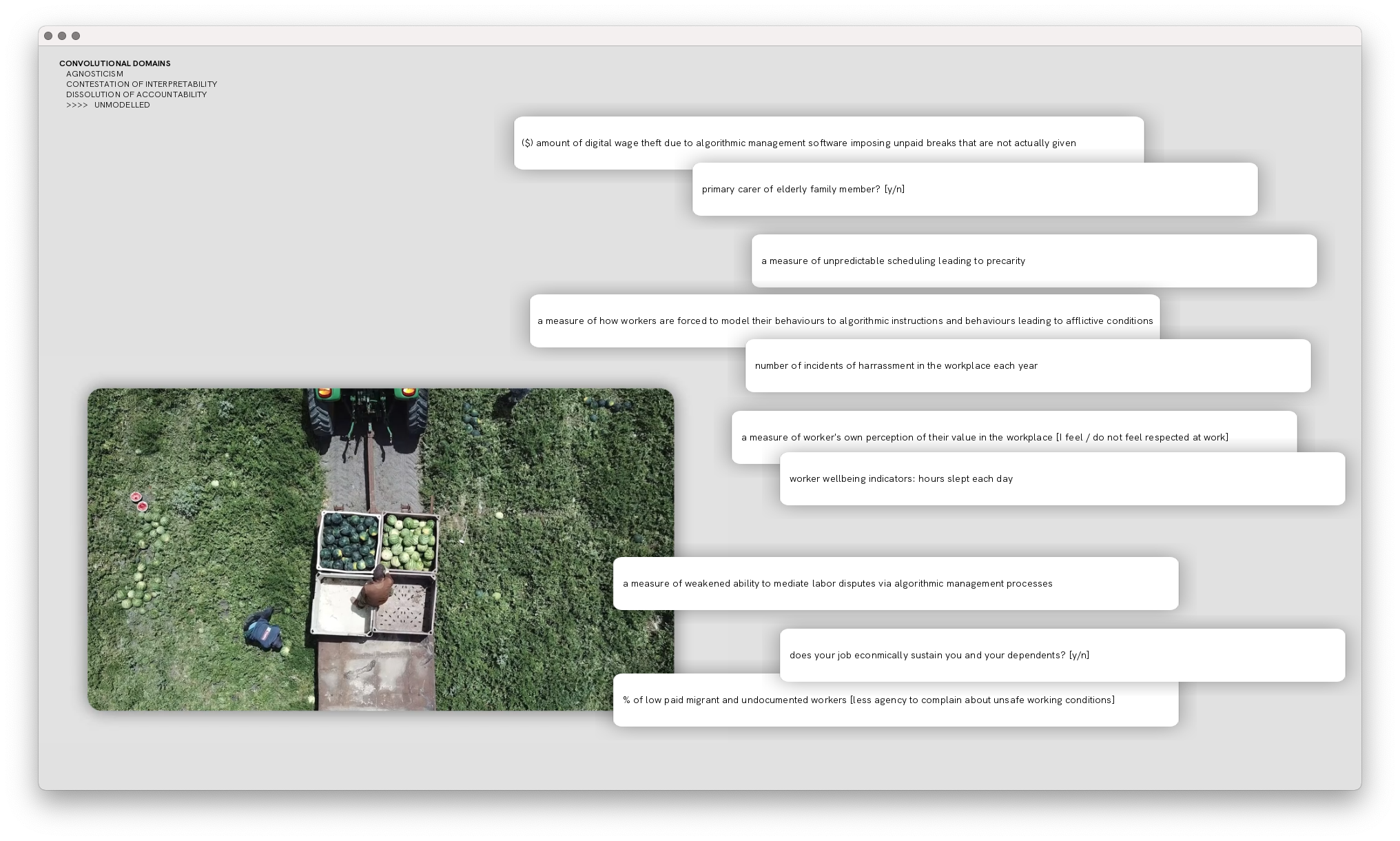 Reflexive software seeks to break the fourth wall of computation. It does not necessarily prioritize a seamless and simple user experience; instead, it attempts to design critical elements of deconstruction, revelation, discontinuity, and contestation into the user experience in order for an audience, perhaps a non-technical audience to engage questions about the new era of machine learning.

A typical approach to machine learning software situates the user in an unconscious, immersive narrative of the innovation of pure automation and subservience to its logic.

In fact, every algorithm and training data set is a mechanical turk that disguises human subjects, human labor, institutional design approaches, and an ideological system behind its development. Reflexive software attempts to offer the user a sense that our algorithmic infrastructures are contestable and could be designed from alternative imaginaries.
Two other input videos that the software operates on to think through machine learning's impact on Textile Workers and Warehouse Workers.